Wall Street is a very little Street in Manhattan, but it represents New York City's impressive financial power and influence. Wall Street is located in Lower Manhattan, and runs east from Broadway to South Street through the center of the Financial District. Over the years, Wall Street has become one of the icons of the United States and the main symbol of its economic power. Located on the Financial District (From Broadway to South Street), Wall Street is home to the New York Stock Exchange (NYSE), the Morgan Guaranty Trust Building, the Federal Hall National Memorial and many other financial buildings. Many other US stock and other exchanges are located on Wall Street, including the NASDAQ.
History of Wall Street
Wall Street gets its name from a wall that was built by the Dutch in 1653. It was erected as a defense mechanism against nearby Indians. Under the Dutch, Wall Street was New York City's city limit. Wall Street is perhaps one of the most beautiful areas in New York City due to its winding, cobble stone streets and amazing architecture. Some of the styles you will find on Wall Street include art deco, Greek revival, Gothic and post-modern.
New York Stock Exchange
Wall Street is the first permanent home of the New York Stock Exchange (NYSE), the world's largest stock exchange. The NYSE is the largest stock exchange in the world by dollar volume and the second largest in terms of number of companies listed. The building that houses NYSE is located at 11 Wall Street, but the actual trading floor, as seen on TV, is located behind the Neoclassical façade at 18 Broad Street. It was designed by architect George Post and became a National Historic Landmark in 1978. In the past, visitors could tour the NYSE, but due to security concerns, tours have been suspended indefinitely.
The Wall Street Charging Bull
An important symbol of Wall Street is the 7,000-pound bronze statue of the Charging Bull (also known as the Wall Street Bull). Its sculptor, Arturo DiModica, claims that the bronze bull represents "the strength, power and hope of the American people for the future." The Wall Street statue is visited by numerous tourists everyday and touched by stock market investors for good luck. In 1989, the bull mysteriously appeared in front of the Stock Exchange shortly before it was moved to Bowling Green.
The Wall Street Experience Tour
One of the best tours of Wall Street is The Wall Street Experience. Their walking tours of Wall Street are guided by real Wall Street insiders who give an exclusive look into the culture, lifestyle and major financial events of the financial district. They weave this into a historical context so visitors have a broader perspective of our financial history.
Images of Wall Street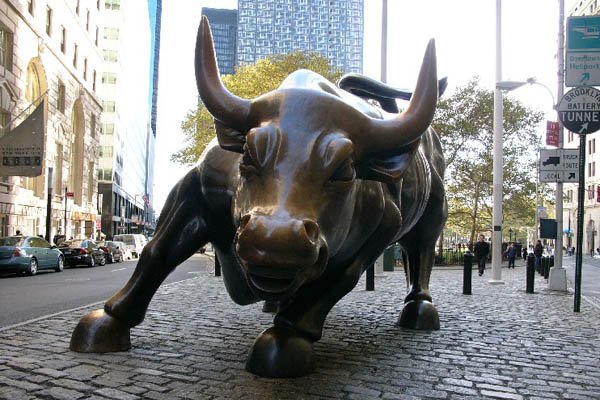 Wall Street's Charging Bull (unknown)
Wall Street Traders at the NYSE (stock photo)