The Toronto Eaton Center is the largest mall in downtown Toronto and Canada's premier shopping destination. The Toronto Eaton center spans several city blocks and contains more than 250 stores. The Toronto Eaton center is one of Toronto's must-see attractions, drawing millions of tourists from around the world each year. Many people visit the Eaton center for its world-class shopping, it's architecture, and it's urban atmosphere.
Layout of the Toronto Eaton Centre
The Eaton center consists of 4 levels of retail shopping, conveniently located between Dundas and Queen subway stations along Yonge Street. The first three floors are reserved for retail shopping while the fourth is reserved mainly for parking. Due to its popularity, the Eaton center is open year-round, including statuary holidays.
What to do at the Eaton Centre
The Eaton center features many of North America's most popular retail stores and it is easily accessible via subway, streetcar, bus or walking. Although it's not recommended, you can get to the Eaton center by driving and there are several parking areas in and around the mall. Some of the most popular stores in the Eaton center include GAP, Old Navy, Indigo books, Sears, and H&M. You will also find two large food courts and many kiosks and booths throughout the complex.
Popularity of the Eaton Centre
Every week, nearly 1 million people visit the Eaton center, making it one of Toronto's top tourist attractions. It is the largest shopping mall in Toronto and the third largest shopping mall in Canada. There are more than 250 retailers, restaurants, and services available at the Eaton center. The center also contains two large food courts. The center is named after the Eaton's department store, which no longer exists. In fact, the city of Montreal also happens to have its own Eaton Centre
Architecture of the Eaton Centre
Since opening in 1977, the center has continued to draw guests and visitors from all over the world. The architecture of the Eaton center is spectacular. The mall features as stunning glass galleria along with vaulted glass ceilings and open multilevel spaces. Nearly doomed, there is an aerial sculpture of Canadian geese fly to the length of the center.
Visiting the Eaton Centre
The Eaton center is located in the heart of Toronto on the southwest corner of Yonge Street and Dundas Street. You can also access the Eaton center through the subway because it is serviced by two subway stations: Dundas station. Many of the Eaton center's interior passages form part of the Toronto's PATH underground network.
Images of the Eaton Centre
Toronto's Eaton Centre (unknown)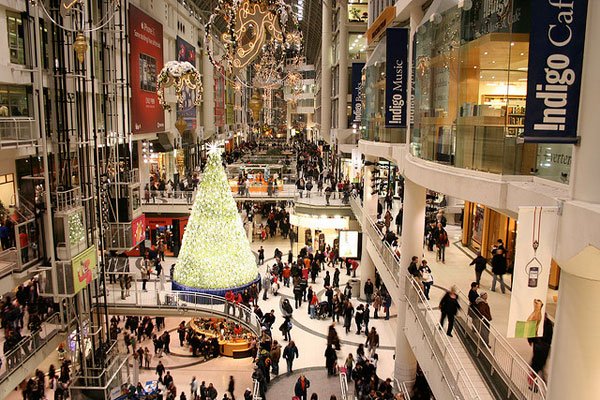 Toronto's Eaton Centre (unknown)
Crowds at Toronto's Eaton Centre (Toronto Star)