Nathan Philips Square is Toronto's public square located in the downtown core of Toronto. It is a public urban plaza located directly in front of Toronto's New City Hall building. Nathan Philips Square is home to various free outdoor concerts and shows. New Year's Eve celebrations, concerts, charity events, speeches and demonstrations are all held at this square.
History of Nathan Philips Square
The Square is named after the former Toronto Mayor, Nathan Phillips, who was mayor of Toronto from 1955 to 1962. The square opened in 1965 along with the City Hall. Many of Toronto's concerts, festivals and public events take place on Nathan Philips Square.
Nathan Philips Square in the Summer
In the summer, Nathan Philips Square becomes a popular retreat for Toronto locals and out-of-town visitors. Concerts, events and farmers markets are some of the events held in the square over the summer. Every summer the Square holds the Toronto Outdoor Art Exhibition where you can find all mediums of art on display for sale. The farmer's market is held on Wednesdays along with Tasty Thursday where you can sample an array of ethnic dishes. On a summer day, the square is also an excellent spot for people watching, especially from one of the benches facing the arches.
Nathan Philips Square Features
The square was designed by famous Finnish architect, Viljo Revell, who also designed the City Hall. The square houses a peace Garden and a reflecting pool. In the wintertime, the pool transforms into an ice skating rink, complete with food vendors and skate rentals.
Nathan Philips Square and Yonge Dundas Square
Toronto has two important squares: Nathan Philips Square and Yonge Dundas Square. While Nathan Philips Square is bigger, it is not as popular as Yonge Dundas Square, but it provides just as much fun and excitement. In the winter, Nathan Philips Square really shines. In the winter the main fountain is turned into a skating rink similar to New York City's Rockafeller Centre.
Getting to Nathan Philips Square
Nathan Philips Square is located at the intersection of Queen Street West and Bay Street.
Images of Nathan Philips Square
Nathan Philips Square (flickr user Benson Kua)
Nathan Philips Square overlooking City Hall (flickr user Benson Kua)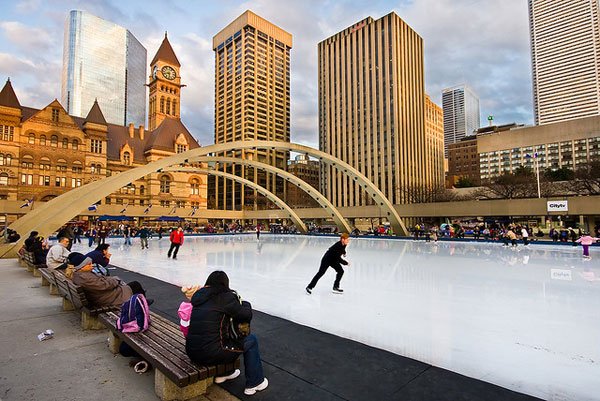 skating at Nathan Philips Square (flickr user Benson Kua)