Toronto City Hall is one of Toronto's most recognizable and unique landmarks. Toronto City Hall is the head office for the municipal government and the corporate head office of the city of Toronto. Toronto's City Hall is most notably identified by the modern look of the two curved multilevel cross-section buildings. The city hall consists of two towers of unequal height. The East Tower has 27 floors while the West Tower consists of 20 floors. In-between the two towers is the Council Chamber where the Toronto City Council holds monthly meetings. It is is actually Toronto's fourth city hall and was built in order to replace the former city hall due to a shortage of space.
History of the Toronto City Hall
The Toronto City Hall opened in 1965 after, then Mayor Nathan Philips and the City Council held an international design competition for a New City Hall. A total of 520 designs were received from 42 different countries. In the end, the competition was won by Finnish architect, Vilho Revel, the same architect that designed Nathan Philips Square. Construction began in 1961 and the building was opened in 1965. The final cost for the New City Hall was estimated at $31 million.
Design of the Toronto City Hall
The design of Toronto's City Hall is divided into three main parts: the podium, the two office towers and the circular council chamber. The main floor of the City Hall houses the Hall of Memory, which is a scaled-down version of the city showing all the major attractions and the upcoming changes to Toronto. The City Hall also contains the offices of Toronto's Mayor and city councilors. The offices of the Mayor and the 44 City Councilors are located on the second floor.
Components of Toronto's City Hall
The City Hall complex also includes the Nathan Phillips Square, a sculpture Henry Moore and a statue of Winston Churchill. The City Hall is nicknamed "The Eye of the Government" because it resembles a large eye in a plan view.
Images of Toronto City Hall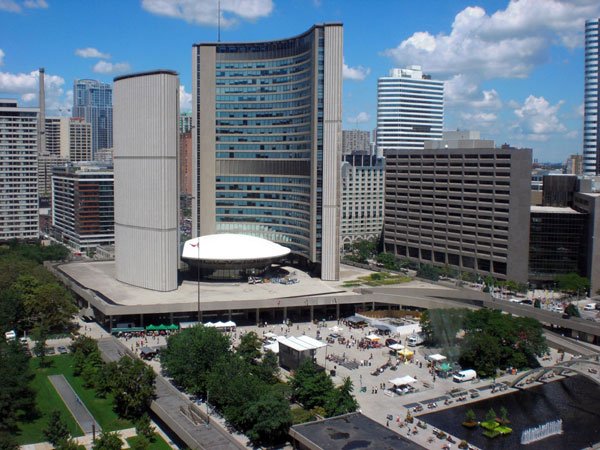 Toronto's City Hall (unknown)
Crowds at Toronto's City Hall (unknown)
Nathan Philips Square and City Hall at night (flickr user Benson Kua)