Taxicabs are quite easy to find in Toronto, especially in the downtown area. Meters start running at $4. The final fare depends on total distance and time traveled. For long trips, like rides to the airport, you can work out a flat rate with the driver in advance.
Hailing a Cab in Toronto
To hail a cab on the street, look for car with its roof light on, that means that the taxi is accessible. In general, you can hail a cab from any street corner in Toronto. The easiest way to hail a cab is to find a taxi queue in front of one of Toronto's hotels or major office buildings.
Taxi Costs in Toronto
All taxi companies in Toronto will charge the same price which consists of the base price, which is around C$4 a person along with C$0.25 for each additional 0.17 kilometer or C$0.50 a minute. A Toronto taxi care from Toronto Pearson International Airport is usually around C$50.00 but many taxi companies also offer flat rates to the airport.
Taxi Companies in Toronto
There are various taxi companies available in Toronto. The following is a list of the major taxi companies in Toronto along with their contact information.
| | | | |
| --- | --- | --- | --- |
| | Company | Website | Phone Number |
| | Beck taxi | www.becktaxi.com | 416-751-5555 |
| | City taxi | www.citytaxitoronto.com | 416-740-2222 |
| | Crown Taxi | www.crowntaxi.com | 416-240-0000 |
| | Diamond Taxicab | www.diamondtaxi.ca | 416-366-6868 |
| | Royal taxi | www.royaltaxi.com | 416-777-9222 |
Images of Toronto Taxis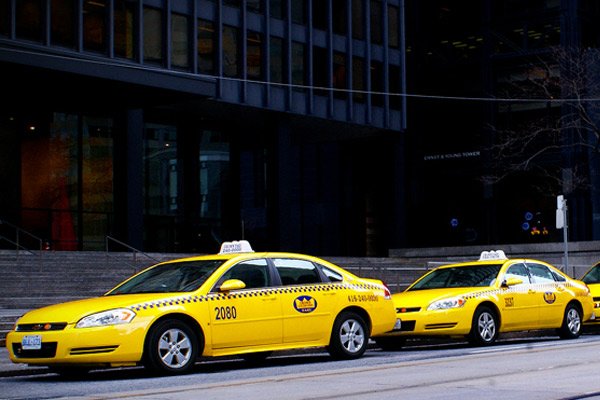 Stationed Crown taxis in Toronto (crowntaxi.com)