The Air Canada Centre (ACC) is Toronto's premiere sports and entertainment venue. It is an indoor sporting arena located on Bay Street in Downtown Toronto. Air Canada Centre is the home of the Toronto Maple Leafs, the Toronto Raptors and the Toronto Rock. Air Canada Centre goes by two popular nicknames: the ACC and the Hangar. This 665,000 square foot sports and entertainment complex is one of the busiest arenas in the world.
Uses of the Air Canada Centre
The Acc has been used for various events over the years. Basketball, hockey, arena football, lacrosse, concerts, family shows, skating events, corporate trade shows, circuses, and various sporting and community events and private functions take place at the Air Canada Centre. Air Canada Centre has been recognized with more than 25 industry awards and as of February 2009, it has hosted over 26.8 million fans at close to 2000 events including Leafs, Raptors and Rock games, as well as concerts and live events. The ACC features:
Featuring:
1020 Club Seats
40 Platinum Lounges (unique to a North American venue)
65 Executive Suites
32 Theatre Suites
16 Loge Suites (2nd and 3rd level loges)
Three Group Sales Areas, including a 200-seat gondola
Seats throughout the facility are 19″ and 20″ and fully upholstered.
History of the Air Canada Centre
The Air Canada Centre started out as the home of the Toronto Raptors in 1997. The ACC replaced the aging Maple Leafs Garden, which had been the previous home of the Toronto Maple Leafs. The first Maple Leafs game at ACC took place on February 20, 1999 while the first Toronto Raptors game at ACC took place on February 21, 1999 as well.
Sporting Events at the Air Canada Centre
The ACC hosts many sporting events throuought the year. Since it is the home of 3 of Toronto's most popular professional fanchises, there is always something going on at the Air Canada Centre. Professional teams that call the Air Canada Centre home include the Toronto Maple Leafs of the National Hockey League (NHL), the Toronto Raptors Basketball Club of the National Basketball Association (NBA) and the Toronto Rock Lacrosse of the National Lacrosse League (NLL)
Special Events at the Air Canada Centre
Besides serving as a place for sporting events the air Canada centre has played host to various musicians over the years. Some of the most famous musicians to play at the ACC include Britney Spears, e Lady Gaga, Tina Turner, The Rolling Stones, Cher, Nickelback, Mariah Carey, Bruce Springsteen, and Lenny Kravitz.
Getting to the Air Canada Centre
Located in the heart of Toronto, the Air Canada Centre is close the CN Tower, the theatre district, restaurants, shopping and several major hotels. The ACC is connected by the underground pedestrian PATH system as well as the TTC's Union subway station. There are also 13,000 parking spaces available around the ACC.
Images of Air Canada Centre
The front of Air Canada Centre (unknown)
Crowds entering Air Canada Centre (Mike Cassese/Reuters)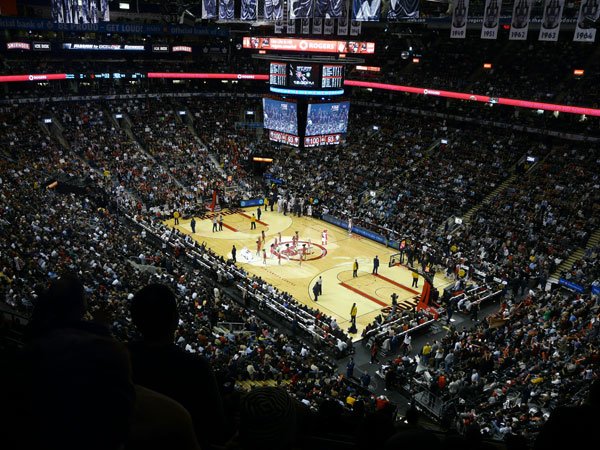 The Air Canada Centre During a Raptors Game (unknown)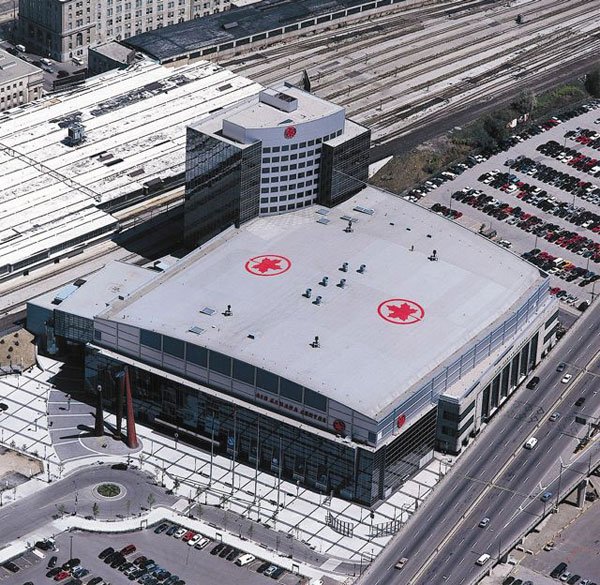 An Aerial view of Air Canada Centre (unknown)